The best thing to ever happen on your chainsaw if you like to put more time working and not more time sharpening its teeth!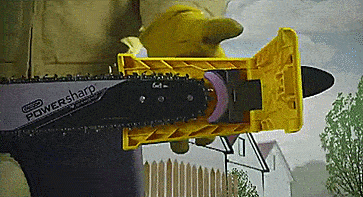 The Chainsaw Teeth Sharpener offers you the best sharpening experience and allows you to do more time on other stuff rather than just spending a whole day of sharpening. It sharpens fast compared to other sharpeners, and it is portable and simple to use. Just carefully insert the end of the chainsaw's blade into the sharpener's opening, close and lock it shut, then push the end of the sharpener against a log and start running your blade to sharpen.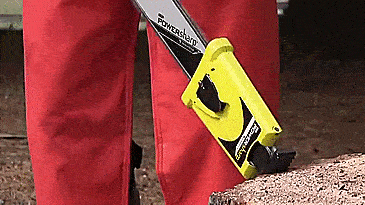 You will see the difference after a few seconds, giving you surprisingly sharp blades! Made with durable and high-quality materials to ensure an efficient and precise sharpening system with high-accuracy.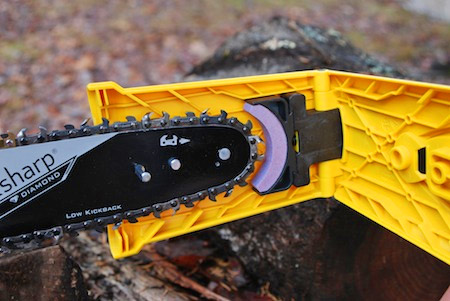 KEY FEATURES
QUICK SHARP. Fast and accurate saw chain sharpening method. The chainsaw sharpener allows the user to sharpen the chain during the sawing operation, it takes only 3-5 seconds from dim to sharp.
HIGH QUALITY. Our chainsaw Sharpener tool is made of high-quality and durable materials. It is installed inside the sharpener, keep the chain and the guide rod oiled, reducing friction and prolonging the service life.
EASY TO USE. Just fix the chainsaw on the hole of the sharpener, gently squeeze the chainsaw and press down until it touches the whetstone.
PERFECT FIT. The safe and easy chain saw sharpener makes your chain and grindstone fit together, sharpening your 14/16/18/20 inch two holes' chain saw.by the way, please remember to fix and tighten the screws when sharpening the chain. (Not suitable for ECHO 16-inch chainsaw)
TIME-SAVER. Our chainsaw sharpener tool is lightweight, portable and easy to use outdoors. The saw chain sharpening can improve work efficiency and save time.
PRODUCT SPECIFICATIONS
Size: 245 x 145mm

Material: Plastic + Whetstone
PACKAGE INCLUSIONS

1 x Chainsaw Teeth Sharpener