ONLY 65% DISCOUNT TODAY
NEW VERSION 2019
RECOMMENDED BY:
Studies have shown that only by walking on the ground, our knees will have to bear the weight up to 3-5 times higher than our actual weight. The long walking journey can sometimes be overwhelmed especially to some aged groups or suffering from knee pain. With this unique Power Protect™ Knee Pad 2019, it helps to tremendously reduce the pressure strain of your weight on your knee and meniscus for better protection.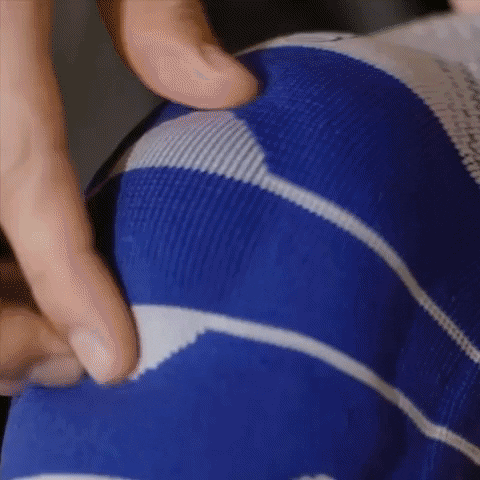 THE PRINCIPLES OF JOINT PROTECTION:
Breathable knit will not retain heat, stretches medially and laterally, and does not restrict mobility.
Two spiral stays on each side offer stability and keep the knee support from rolling or bunching. 
Medial adjustable correcting strap helps to protect the knee cap. 
Anatomically formed viscoelastic pad with corrective tensioning counteracts patella misalignment and supports proprioception, heightening sensory awareness in the knee for increased joint stabilization.
Combination of the wedge-shaped pad and viscoelastic pad produces intermittent compression on soft tissues for less swelling and faster healing.
There is evidence that joint protection relieves pain, reduces local inflammation, and maintains functional ability. An overview of systematic reviews found high-quality evidence for beneficial effects of joint protection and patient education, with pain, function, and patient global assessment being the primary outcomes of interest. Here are the benefits you can get:
Respect pain.
Distribute the load over stronger joints and/or larger surface areas.
Avoid maintaining the same joint position for prolonged periods.
Reduce excess body weight.
Use good posture and body mechanics.
Use the minimum amount of force necessary to complete the job.
Simplify work by using efficiency principles: plan, organize, and balance work with rest.
Remain active to maintain and increase strength and range of motion.
PRODUCT CHARACTERISTICS:
PROFESSIONAL KNEE SUPPORT
Premium neoprene knee sleeve designed for weightlifting, working out, running, cycling, hiking, crossfit, and more!
SIZE & COLOR:
Measure the knee mid patella with the leg straight. If tight competition fit is desired, order one size smaller than the recommended sizes in the images.
HOW TO CHOOSE YOUR MEASURE: 
Package includes:
1* Power Protect™ Knee Pad With Viscoelastic Pad
 PEOPLE OF DIFFERENT AGES, GENDER AND SPORTS MUST USE THEM:
 --- Customer Feedback ---